SYLODIUM
The most powerful global business platform. SyL: <C2C[A2A(B2B)]-P/S>
This isn't an idea, or a mix of new ideas.
Sylodium is a New System (structure where you can operate) with the natural business axes. <Countries-Actors-Categories/Crossing System>

How other platforms pretend to organize international trade with isolated cities?
Do companies pay the same taxes, same transport costs, marketing, equally in each country?
Can a country import itself or export itself?
Only In Sylodium, you can manage your business in any world area you want, choosing markets, kind of clients, suppliers, and services and products.
"I want to export my garments from Bangladesh to USA and Germany offering my items to an agent in USA, and directly to an importer in Germany"….
//Garments// from ="Company" of <Bangladesh> (to) ="agent" of <USA>
//Garments// from ="Company" of <Bangladesh> (to) ="company" of <Germany>
Even with screws (not only with oranges or cars), a client may prefer Chinese screws to German screws, or vice versa.
A Mexican who sells chopsticks, can sell flat chopsticks for Spain, and round ones for Singapore…
The Sylodium' structure represents the reality of International Trade in Internet.
but Sylodium goes beyond the representation of global bilateral trade:
New kind of business, multiplied business, can be done in real life, starting virtual life: continuous feedback between Online – and Offline (the real life).
via Sylodium's system. A new system, a new world map where the knots are the crossings amongst cities, the routes, not the isolated cities.
(system:when you can operate rationally inside a structure)
Are not bilateral relationships between countries, cities (country and city crossings), actors, kind of companies, persons, that inter-act, and products and services they offer, the basic relationships in international trade?
What system lacks coordinates, and its basic relationships in those coordinates?
B2B of global trade is inside the framework of a C2C (city to city, country to country) A2A (Actor to Actor), and P/S (productos and services)
1 You choose your business routes; You choose your target markets: Cities, countries, áreas. is not the same export to USA, that export to Egypt.
2 You chose the kind of actors you are interested in: is not the same export to a dealer, that export directly to another company. right?
3 Obviously, you choose your categories, your products and/or services.
OPPORTUNITIES ONLINE, AND REAL BUSINESS, FOR INTERNATIONAL COMPANIES, EXPERTS, INSTITUTIONS OF INTERNATIONAL TRADE, AND EMPLOYEES OR INTERESTED PUBLIC.
1 Segmentation
2 Multiplication
3 Interaction
4 Business structure
5 Business in real life.
1.- BUSINESS SEGMENTATION
Make your business. Make your niche.
a seller of //wine// from <Madrid (Spain)> - thousands of possibilites
can offer its //wine// from <Madrid> (to) <Madrid> to //public// online.
from <Madrid> (to) <France> to //wholesaler//
from <Madrid> (to) <Russia> (to) //trader//
from <Madrid> (to) <China> (main cities) (to) //agent//
This is segmentation, target places, ítems, kind of target actors
Make money in USA – China (company – company) clothing, Make money in Japan – Germany (expert – employee) logistics, Pakistan – India (institution – bank) real estate, Russia – UAE ( company – public) gold……..Turkey – Egypt, Tanzania – Ethiopia, Make business in Mexico – Brazil, Spain – Colombia, Vietnam – Indonesia, Philippines – Bangladesh, Nigeria – South Africa, etcSingapore - UK Make Business in Asia – America, Make business in Europe – Africa. Make business Russia – Middle East, Make money in India – USA, Spain - Peru / Pakistan - Australia Make money in China – Japan, Make money in ASEAN - Germany
You select your business niche = Less competitors.


2.- BUSINESS MULTIPLICATION
Internet has deleted the borders, exploit them.
We illuminate all the routes to Google at once. We make all the routes to you in Internet.
Via our City and Country / Crossing System.. You'll be seen by people you want to be seen.
the same advertise, just one advertise, can appear in 200, 300, 500 places depending your selection.
You will be seen by thousands of daily Sylodium's visitors
You will be seen in TOP positions via Google, as our visible structure, is our SEO structure (URLs, metas), that is the real structure of international trade.
Google the first links that will find will be our links that are all together at once – the Best Global SEO.
Google has the path clear, direct, the relevance that is so important for Google, is got for us inmediately for representing the reality.
Multiplication of ads.
Example a "seller" of //wine// from <Madrid> (to) <Russia> (to) //trader//
PLACES
CITIES
<Madrid (city source)>, <Madrid – Moscow>, <Madrid- St Petersburg<, <Madrid – Samara>, <Madrid – Omsk>………..Until 25 Russian cities, 25 crossing cities connections<Moscow>, <St Peterburg>……. 25 (cities target)
COUNTRIES AND AREAS
<Spain (source)> <Russia (target)>, <Spain – Russia>, <EU (source)> <EU – Russian>, <Russian (target)>
Total: 57 business places
ACTORS
<Company (source)>, <Company – trader>, <Trader (target)> 3 business places to be seen.
Products
Beverages (category). Wine, red, spirit, alcohol, Spanish( 5 tags) 6 business
AUTOMATIC COMBINATIONS- POTENTIAL SEARCHING
and any other combination of these selections
<Companies (source)> from <Spain (to) Russia> or from Spain (to) <traders (target)> of <traders Russia>……
in fact,
by maths: 1 x 3 x 57 (places) = 161
TOTAL 1 AD, (3 clicks)----- 66 + 161= 227 business places
(imagine in cases of 3 source cities, and USA or India, or China as target)
That is for USERS FREE--------See Premium users.
3.- BUSINESS INTERACTION
A.- USERS' Inter-Actions
Our platform Works in a sense as a Social Business network, where you can
- Comment, Follow - To see the movements of your competitors or suppliers, sellers, etc.
- Buy - Buy to China, buy to Indonesia...
- Sell - Sell to Nigeria, sell to Egypt...
- Alliance - With any company of the network
UNIQUE for Premium users.
including thirds.
Many alliances can emerge with the Spanish wine company
For ex.: About the route it has been chosen (In the trip back to Spain to Russia, in Germany can full the trucks or in France or in Ukraine…), about the wine: the amount (another Spanish wine company deal with this to increase the amount and decrease the costs….), about potential complementary products, (the Russian trader need wine and jam or any other gourmet product, for ex.)
The same for Russian trader…For ex. only buy the wine to Spanish company in case he can sell meat to Middle East, then, this condition could be included as triangular operation, via including thirds, in the same case, an Egyptian company is willing to buy the Russian meat, in case the Russian trade do a barter with agro products….Etc, the chain can be very long, but in this chain, in the interconnections points, in the knots where 2 or 3 or more companies are in business, many other business can emerge, and can be done,
Just an example to be aware of the new reality of Sylodium System
Circuit business. Interwoven business. Business Pleach…..
The chain of Canadian supply bombardier C-Series plane is currently manufactured in Canada (design, assembly and testing); in China (the fuselage); in United Kingdom (wing structures), in Italy (the empennage); in Germany (landing gear) and in the United States (engine parts and other components). All steps can be done via SYlodium Everything runs.
B.- USERS' interaction with SYlodium's collaborators, and experts.,
C USERS' interaction with public.
Sorry, unique international trade game.
We should apologize for saying is unique so many times?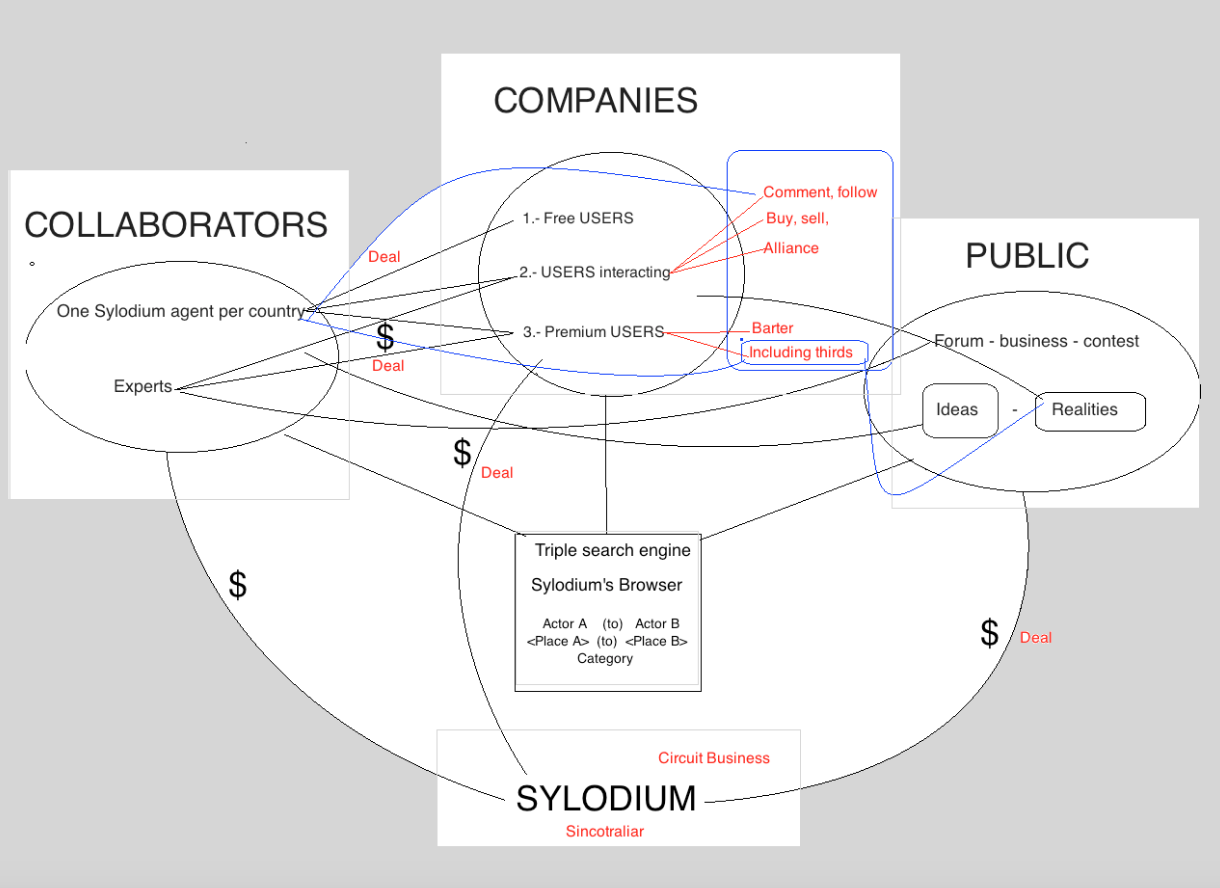 4.- The businesses's Structure: Sylodium's structure.
Food, clothing, house, displacement will last while the humans exist
as the relations A deliveries to B this or that thing in that place,
There are Business without Life Cycle despite the incredible future is coming
In 1998, Kodak had 170,000 employees and sold 85% of all photo paper, they went bankrupt. Uber, Airbn,are fantastic software tools, with a life cycle, as the Intelligence Artificial sooner or later will change them.
Autonomous cars, Insurance companies, Real estate, Electric cars, Solar production, Desalination, Health, 3D printing , Agriculture, Bitcoin , Education….All will change, except the basic relationships, But the Pythagorean theorem, or that nothing emerge from nothing, or that A deliveries to B this thing from here to there, or directly there, in a concrete place, that can be the cloud or the moon, but the cloud and the moon are places, and a person is there, or here, to do a business, all this, will never change.
the heavy and basic reality, the unique and simply reality of business,
As we can't imagine different senses of that we have, we can't imagine another basic business structure.
Next-generation HTS platforms will be required to support a wide range of applications at an unprecedented scale. The future technology progression in the satellite industry is driven by mainstream technology developments such as the cloud and virtualization
But all apps you can imagine, won't go out from Sylodium's structure, the basic structure of trade.
Currently, apps as Currency Converter Currency Converter. WhatsApp messenger is a encrypted, Google translate . CBM it's easy calculate the volume of cartons. FindShip, you can track your vessel' movements real-time on the map. 17TRACK It supports over 170 postal carriers including Russian Post,China EMS, HK Post, Singapore Post, USPS, China Post, and many others, can be added to Sylodium.
Sure,
Before the advances about RFT (Relational Frame Theory) about real Semantic Web (where the words, not just the logic orders, have their specific coordinates , 0 and 1, to run), and the advances to link Hardware with Software (and with users) due to use similar languages, or the advances in artificial intelligence (where for example the computer will register all movements of all users in his own space of coordinates -the same that we could have in mind- growing its own segmented "brain" where each user can study himself) we will develop a basic cybernetic system for international trade.
Sylodium is an invented word (with latin suffix) draw from the Greek word Symploké
OPPORTUNITIES FOR INTERNATIONAL COMPANIES
OPPORTUNITIES FOR BILATERAL TRADE INSTITUTIONS Especially for embassies,and bilateral chambers
Relevant note:
Our system, is like the essence of business language:
When interaction increases
the Actions, not only relations and categories
will be also part of the search engine, of the structure, of the system
For example
" to a or offers to a ." All in
"if Some me theMoney or participates as in that"

5.- Business in real life.
If you join us as Premium user
Our networking of Collaborators
will help you to do real your virtual proposals in some of their countries