FREE USERS
Sylodium Business Premium

Sylodium Enterprise Premium (*TBN)

Source Cities
1 City
3 Cities
3 Cities
Target Cities
1 Country or 50 Cities
1 Continent or 500 Cities
1 Continent or 500 Cities
Target Actors
1 Target Actor
2 Target Actors
2 Target Actors
Ads Position

1º Degree Position with Participation
Banners - Alloted Spaces (in all related pages)

Banners - Alloted Spaces (in all related pages)
Introductions & News Relevancy

Interaction

Comment, Follow, Trade & Alliance
Comment, Follow, Trade & Alliance
Comment, Follow, Trade, Alliance & Barter (up to 3º Degree involvement)

Business Niches

Automated Niches
Automated Niches.
Automated SEO Circuit Business.
Owner of 5 niches in all of Internet.
Automated Niches.
Automated SEO Circuit Business.
Owner of 5 niches in all of Internet.
Uniquely-Designed (SEO) Circuit Business
Target Networking

Automated Networking.
Public & Participatory Collaborations.
Automated Networking.
Public & Participatory Collaborations.
Advertising Business Proposals on Social Networks.



Automated Networking.
Public & Participatory Collaborations.
Advertising Business Proposals on Social Networks.
Handmade Networking
Collaborators of Sylodium: Strategic Trades Involvement


* To Be Negotiated
Sylodium Business Premium
Concentrated Highlights:
? Own up to 5 Niches in all of Internet
- Yes! You will conquer all 5 URLs that will be redirected to the respective Ad. All of which will be listed on the Top Search Results.
- An Example: Henry is in Canada, dealing Gold & wants to do business targeting the Europe Continent.
1st (www.Canada-SpainGold.com)
2nd (www.Canada-FranceGold.com)
3rd (www.Canada-GreeceGold.com)
4th (www.Canada-PortugalGold.com) 
5th (www.Canada-GermanyGold.com)
- Your Business Ad is then uniquely recorded on Google's search algorithm and will almost instantly appear on the Top Search Results.
- Segmented Banner that uniquely appears on all of the targeted countries and cities. Let your Banners be seen and reach out to all targets including the public.
? Automated Networking
- One of Sylodium's trademark feature is the Automated Business System. A brilliant crossing system that is simplified to leverage the Import and Export industry starting from Entrepreneurs to SMEs including Government organizations.
Sylodium Enterprise Premium
Concentrated Highlights:
- Our dedicated support to Bartering will push businesses to new heights. Any product or services will be bartered starting from local to global businesses.
? Handmade Networking
- Take advantage of our collaborators network around the world with your virtual business Ad.
- A brilliant opportunity to hire our collaborators and penetrate the market in order to sell your products in other countries and cities. They will study your proposals, business routes and circuits to spot trends while paying attention to your movement.
- Your proposals will then be moved with our tool including third degree involvement, towards the success of your business.
- Collaborators of Sylodium will be physically assigned to campaign on Social Networks and clinch ongoing deals in that respective countries and cities.
? Uniquely-designed SEO Business Circuit
- You will be able to uniquely design your own business routes, triangular trade joining 2 or 3 cities in relationship with another 2 or 3 cities prior to your business strategy.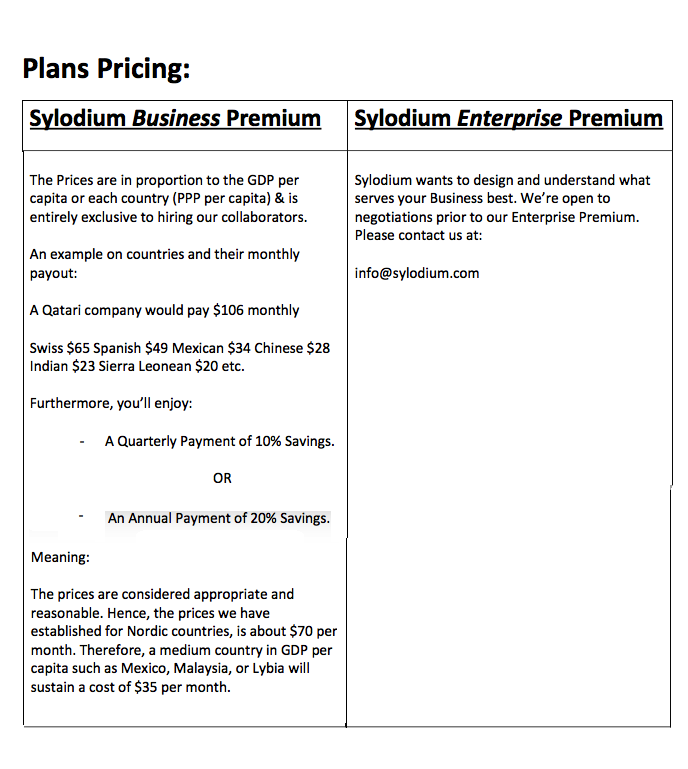 49015
Zamora (Spain)
Avd Portugal 8 2º
Sylodium S.L. CIF B-49269202.
34 - 693 720 436