We are the Web
Meaning:
The coweb of business,
1 ª Networking: between Premium members (including partners, collaborators, and experts) and normal Sylodium's users, to leverage your business.
2 ª Networking: Take advantage or our Sylodium's Agents, our administrators network around the world so your virtual business will success in "real life" in many other countries
Currently
Zain Khan, from India
Ialah Gazla, from Jordan
Adrián Córdova, from Mexico
Ali Haroon, from Pakistan
Chris Guan from Zhengzhou (China)
Abo Thioune, from Senegal
Olumayowa Fakorede from Nigeria
Guna Shelan, from Singapore
Efisio Spiga, from Italy (Cagliari)
John Kemdi, from South Africa (Durban)
Gennady Kaplenkov, from Russia (Vancouver)
Shravan Namburi, from India (Hyderabad)
Jose Antonio Ruiz de la Torre from Spain
Jamil Benslimane: Casablanca, Morocco.
Abdulaziz Kemal: Ethiopia
Sulema González Teijeiro: Cuba
Marco Antonio Pérez Bustos: Querétaro (México)
Celestine Sunday, from Nigeria.
Lusekelo Richard, from Tanzania
Amedee Mieke, from Italy
Carlos Marcos Maíllo, from Egypt
The Web of global trading,
ALLOW OTHERS TO PROPOSE YOU NEW BUSINESS, NEW OPPORTUNITIES
INTERWEAVE YOUR BUSINESS
Pleach your business.
1.- You create your own circuit business (CBa), the owner of niche in SYlodium, you can interact with other users.
UK/India/Import/Export/Wines
Tottenham/NewYork/Export/French/WInes
London/Paris/Trading/Wines
Segmentation – Multiplication
2.- You create your own SEO circuit business (CBb), you are the owner of the niche in Internet, in Google.
wwwShenzhen/Shanghai/Export/LED/Tubes/Lights.com
wwwShenzhen/Dubai/Export/LED/Panels.com
wwwShenzhen/NewYork/Trading/LED/Flood/Lights.….
Entering in Google URLs
3 Our Experts and collaborators can create another circuit business (CBc), depending other Users' movements (beyond our automatic system matches) to use Including thirds (Referencing).
Shenzhen/Africa/Buyers/LED/Tubes/Lights
Shenzhen/MiddleEast/Buyers/LED/Panels
wwwShenzhen/NewYork/Trading/LED/Flood/Lights.com
4 Collaborators can suggest you another SEO circuit business
But the web in its literally sense, where the spider is moving and tracking from up and down, over and out, without barriers.
In many websites you find many opportunities, of course, but many of them don't become a reality,
Why?
They don't work after in the "real life"
And they just work on-line but with cities and countries off-line
Some of them are really cool websites due to their big number of users, but only with online services
If you want success in business via Web
A platform must connect "the on-line" with "the off-line"
Our networking is different to the rest of social networking websites you could find in internet
As we provide 2 interwoven networks nurturing each other.
1 The Business Social Network
2 Sylodium's Workers Network
1.- the social network for international business.
By now, in our social business network, thousands of business has joined us in a record time in several months
With the work of our administrators net around the world, the businesses will join us exponentially.
Becoming a Premium member, you will leverage your business not only locally (in any local area network, or metropolitan area network)
above all, globally, potential partners of your countries and from the rest of the world, alliances, barter operations, buys and sells, Exchange of information, of goods, of services, ideas, etc
Idea -------
See how the segmented structure Works now,
Works good, very good,
But this structure (places, actors, matters) suppose thousands of actions, but that can be found without mess, as the things are well ordered in our 3 axes of the structure (places, actors, matters)
PUBLIC interested in International Trade.
Within the Web, many interested people in international trade visit us (about 3.000 per day but growing) via our Bilateral busines news, via our economic blocs, and from the forum, so in all cases, as your ads are the goal of all sections, you'll be seen by public interested.
Also from the social networks involved.

EXPERTS of international trade COLLABORATORS.
Referencing (Including 3º)
Unique tool, where not only the machine, but also the collaborators will find the matches for your business.
INTERNATIONAL COMPANIES

The interaction of users,
buy, sell and Alliance
And comment and follow other users
Plus only for Premium Users
barter
Including thirds by Collaborators.
2.- Sylodium's workers network connects the virtual world with the real world, the computers with the Streets.
Connecting the bussines on-line with "Real Life" services. Our collaborators are obsessed to success your export business.
In case you'd want to hire our concrete collaborators services (out of basic Premium services), we have to deal about the percentage (normally 2%) we would charge you over your export or barter operation if your business success.
In a sense, joining us, due to our administrators' net, you have a person in many other countries, willing to help you to grow your business.
The administrators, belong to the same net, Sylodium (The Global Platform) working in the same direction,
Therefore, you can take advantage of any operation in Egypt taking in account an Indonesian business.
Our administrators will examine your business, and they will look for other businesses that could match with yours.
This matching of course all platforms have, Sylodium too,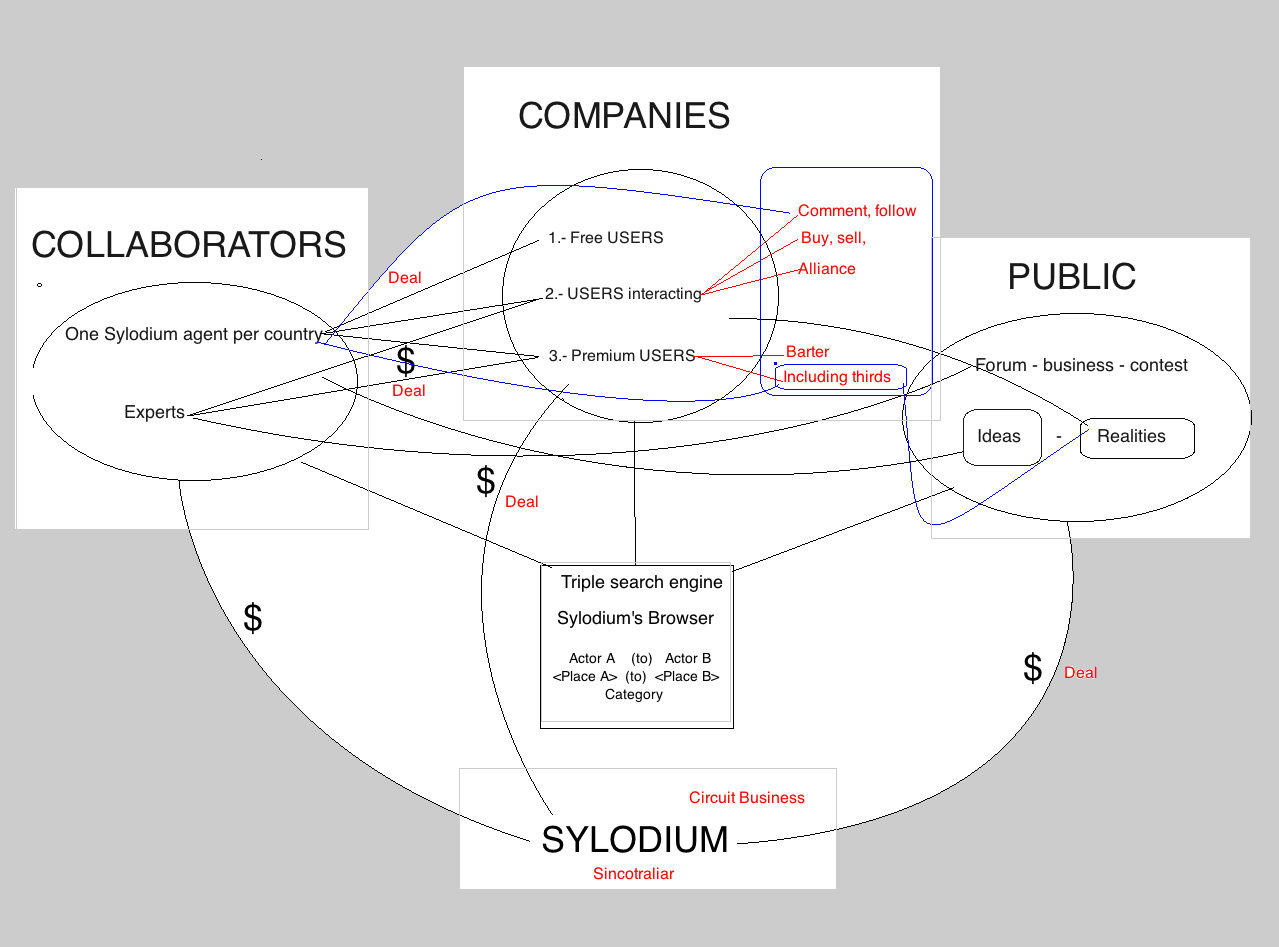 We Go Beyond
Our administrators, examine your text, see your movements and the movements of many others, our administrators study your business, find out new possibilities (hestidolia) and think about possibilities beyond the obvious business, just one example, reaching an Alliance between 2 small wine exporters from Murcia (Spain) and Valencia (Spain) don't know each other, but that via a company that organize international wine events from Milan (Italy) can introduce "both exporters" as only one exporter, to get the enough strenght to enter in the market of Guangzhou, for example,
Furthermore, this study go beyond the tipycal study, as we count with the best website ideas, with "student services online" that provide via our contest - game, that will start with our Forum
Geostrategic global game contest (Critaxis),
incredible powerful and flexible ideas about reaching businesses to success, some times "circuit business".
Yes, they will be able to create new circuits business, joining several relationships, employees with companies, companies with companies, employees and companies with Banks or investors, employees with employees, closing an interesting business where all parts win (we have several in mind).
Premium User
As Premium User, apart from the basic information of the country, in case you'd require specific support, or our administrator would find your business interesting opportunities, both, You (as user) and our administrator, can negotiate to an agreement in the conditions you deal.
Like we told you before, Sylodium, is a real spider around the world, but the spider can run and track the net without stopping as everything is connected,
Sylodium, the coweb of business,
illuminate the routes, the Knots, to Search Engines, Sylodium anticipates to their way of thinking.
Web inside Webs. Your own circuit business interwove with other circuit business, your own bilateral trade niches, interwove with other bilateral trade niches, your own items, services, products (tags, subcategories, categories) match with the other iterested part of the business...
contact us here
49015
Zamora (Spain)
Avd Portugal 8 2º
Sylodium S.L. CIF B-49269202.
34 - 693 720 436