You don't need to be a visionary, just if you have common sense and manage basic concepts of international trade, you can be part of our automatic system for global business where all people who participates win via our crossing system and circuit businesses.
Below the new from IndustrialLaserSolutions
Auto manufacturer Daimler (Stuttgart, Germany) has installed two laser blanking lines from Schuler (Göppingen, Germany) at its plant in Kuppenheim, Germany. Both lines, which are meant for serial production of compact vehicles, allow instant changeover to another cutting style. Programming of the contours is done offline and can be simulated for production optimization. By eliminating dependence on heavy dies, the plant is prepared for different types of upcoming car models.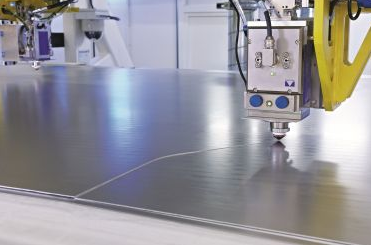 The Dynamic Flow Technology (DFT) technology involves three laser heads that work in tandem to cut contours in the system at more than 100m/min from continuously fed steel or aluminum sheet directly from coil. This will yield surface-sensitive pre-cut parts for mudguards, side parts, roofs, or engine hoods. The conveyor moves through the system at up to 60m/min. The cut blanks are then separated from scrap and stacked continuously. Finally, the two press lines form the pre-cut blanks into chassis parts, which then are assembled in an adjacent Mercedes-Benz plant in Rastatt, Germany.

Normally, blanks are stamped by using blanking dies that weigh upwards of 25 tons. These dies cost up to €200,000 (over $212,000) each, which doesn't include storage, repair, and maintenance costs. If there is a new model in the market, the form changes and refit or new installation of the dies lasting few months is inevitable. By contrast, the plant's new laser blanking lines do not have these dies.
In addition, space requirements in the earlier coil facility of the plant were not suitable for conventional blanking lines. So, the decision to go for the DFT technology was heavily influenced by the fact that the laser systems do not need expensive foundations or a basement.

For more information, please visit www.daimler.com and www.schulergroup.com.