BUSINESS CATEGORIES
Obviously the categories are key in any platform
Alibaba: categories, subcategories, tags, as the huge virtual hardware store in Internet.
LinkedIn, a great search engine, and categories, subcategories, (not tags) as a mess of groups and profiles.
For ex.: is not the same being a company of Laser in China that a company Laser of China that sells to African countries. Yes, right, as African people notice that Chinese company sell to them. Right? Yes, right. Kowing the source is so important as knowing the target at first sight. 
Sylodium: categories, vertical, horizontal, complementary, categories, and tags, as the real (natural) way of business interwoven with actors, businesses and places.
Any point, any niche, any actor, any city, any category, is interwoven with other niches, other cities, other categories in the right way. the real way, the natural way.
Is not the same the Laser manufacturer company that sell to public online, manufacturer - public, that the same laser manufacturer that not sell online, and need a dealer: manufacturer – dealer
right?
Knowing the kind of actor that offer the business and the kind of actor that he targets, is basic in any business to have a real situation.
categories are interwoven with the business places, our countries connections, áreas connections, city connections, and our actors connections and viceversa.
International trade, global services, between Asia –America, EU-Africa, Middle East- Russia...
Import export food, Asia –America, EU- Africa, Middle East- Russia
Import export industry items in Asia - America, EU-Africa, Middle East- Russia
Import export personal goods in Asia –America, EU- Africa, Middle East- Russia
You can make business in all bilateral trades. Specially from Asian countries to Africa about Tech, Apps business, Laser business, LED business, R&D business, from American Countries to Africa related with Future business, specially in all Industry 4.0, 3D Printers, laser business, AI business, Virtual Intelligence, R&D etc. From European countries to Africa related with projects in Africa, HR solutions, circuit business, local and sustainable tourism business, tech-agro-eco-business (areoponic systems, agroships), win win business, beneficial business (not charity) etc. but also in any other.
The categories are linked to all bilateral trade relationships.
This interconnection is basic not to be as a phone list, but we have to go beyond this, introducing,
A Vertical categories, (only in Sylodium)
interwoven with relations between actors.
Crucial for people starting an import export business, and crucial for companies with small market share currently striving for increasing their strenght in global market.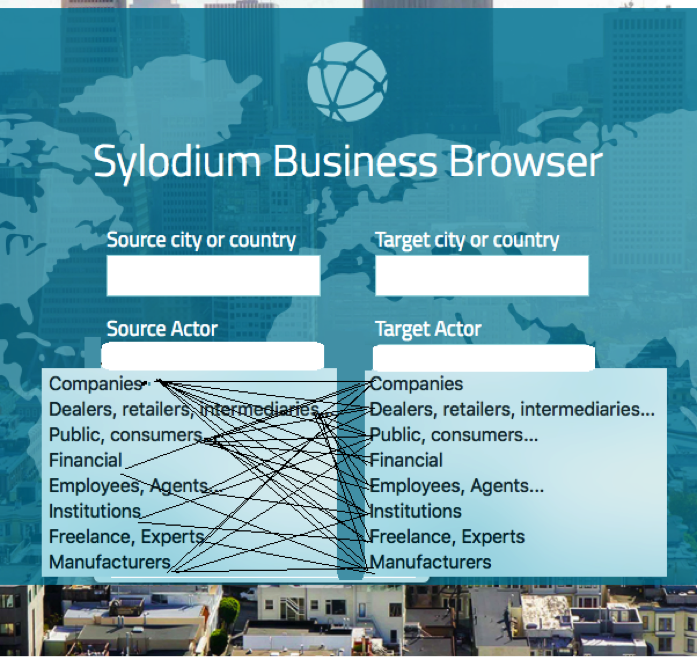 VERTICAL CATEGORIES ORDERED BY CROSSING ACTORS.
for example about Laser business
Is not the same the Laser manufacturer related directly to public, offering public their itmes via Online business manufacturer - public
that the same laser manufacturer offering to laser dealer in Africa
manufacturer - dealer
and this one to laser company in Africa
dealer - company
and this one to public
company - public
B Horizontal categories (as all platforms do)
continuing with Laser example
in Industry,
Laser Physics , Laser Scanning , Laser Engraving, Laser Surgery , Laser Welding , Laser Dentistry,   Laser Alignment , Laser Marking , Semiconductor Lasers, Laser Safety, Laser Cutting, Laser Ablation , Laser Capture Microdissection,   Laser Resurfacing,   Pulsed Laser Deposition
in Personal Goods,
Laser Printers , Laser Therapy, Laser Hair Removal,…
C Complementary categories (only Sylodium offers).
hiring our plan, you can design (and we build for you) your own SEO circuit business (as agroships, example) and you could be the king of Laser in Internet in Japan to Africa, just one example of endless examples with great opportunities, as you would be the owner in Internet the places that rent strong. 
wwChina/Africa/International/Shipping.com
wwMumbai/Dubai/Solar/Panels.com
wwManila/SIngapore/Trading/Fresh/Food.com
wwRiodeJaneiro/Berlin/Export/Laser/Green/Pointer.com
the categories will be independent appendixes (see laserTrade) to be managed as the central matter, in the specific place, (New York – Shanghai, Moscow – Cairo….) and with the specific actors, (Institutions – Experts, Public – Companies, Experts – Experts) 
we are planing the next step,
A basic cybernetic trading system. for international SME's and starting global business.