for bloggers
Do you want to manage your African country related with latin American countries and cities?
What topics and stereotypesAfrican think of Latin?
Do you have good ideas about your African country that could help it (here, not few, but virtually)?
if you are a good thinker, visionary, hard studious, you can become our blogger in this to win money together.
Are you en expert in new trends Tech?
In revolution times, the tech revolutionary trends emerge even more from Ideas than from high Tech.
Contact us here, info@sylodium.com for being our blogger managing this bilateral trade news between Latin America – Africa.
In revolutions, thinkers grow.
Ideas for Industry 4.0
for agents
Are you in import export business?
We are the future trade system based in common sense. The basic structure in international trade via our fundamental "language business" expressed in the URLs (and domains and metas and contents)
A to B, about this, from here to there, in this way.
Contact us here, mayado@sylodium.com if you think you can be our collaborator to participate in virtual business, specially in 3D Printing, augmenting, BD, AI, IoT, all related with Industry 4.0
for companies and Institutions
Tap our unique Crossing System for targeting and multiplicate your possibilities
(Institutions and media need us).
New from VenturesAfrica.com
MEET THE WINNERS OF 3D AFRICA'S 2017 HACK FOR GOOD 'CHALLENGE'
rom Thursday, July 13 to Saturday, July 14, 2017, 25 young hackers gathered in Uli, Anambra state for the first ever edition of the Hack for Good challenge powered by 3D Africa and Youth for Technology. The 25 participants, from diverse fields, worked on prototypes aimed at solving specific problems in the agriculture, health, security, and transportation sectors. All 25 participants were divided into teams of five, making five teams in total, and were hosted by Chukwuemeka Odumegwu Ojukwu University, Uli.
Between Thursday and Saturday, the teams conceived the ideas for their projects, wrote the programmes and designed and put together their prototypes with the aid of a 3D printer. On Saturday afternoon, each team pitched to a panel of judges and they were scored based on the relevance of their projects to the community, the economic viability, and the quality of their presentation, among other things.
Meet the teams
Team Vision 3D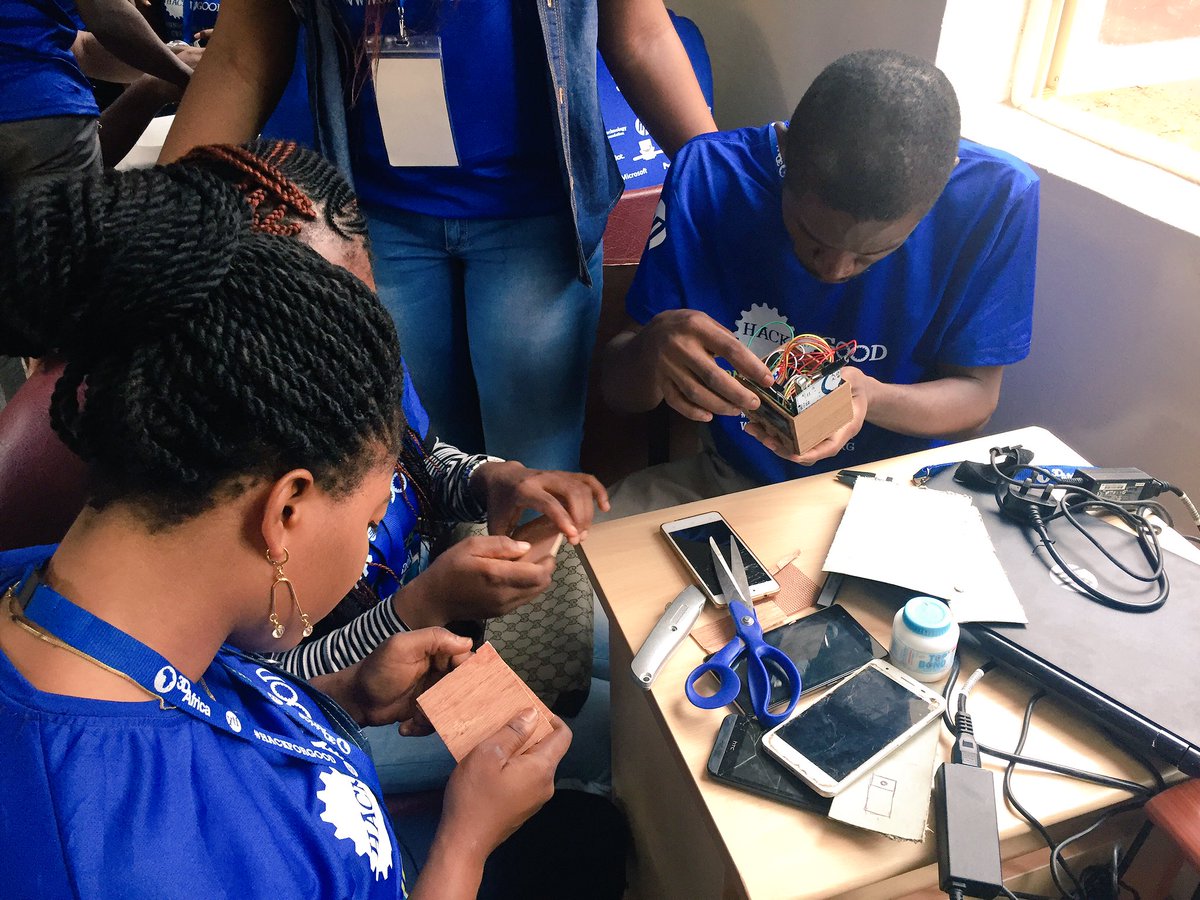 Team Vision 3D worked on the Eco Farm Monitor, a sensing device that can monitor real-time temperature and humidity in a poultry house and transmit the data to a farmer's phone via SMS or voice call, this will help combat unfavourable weather and climatic conditions and reduce the high mortality in poultry birds while increasing the rate of egg production.
Team Crea8-Good
Team Crea8-Good worked on the Road Traffic Accident (RTA) Alert, a device that detects car accidents and informs relevant emergency agencies of the location of said accidents.
When an accident occurs, the impact is picked up by sensors attached to the RTA Alert. The impact sensors generate signals which are channelled to a module that identifies the GPS coordinates at the site of the accident. The GPS coordinates are then sent to the authorities, in this case, the Federal Road Safety Commission (FRSC) central control in Abuja, triggering a distress alarm within 10 seconds of the accident. The FRSC central control then transmits the signal to the closest emergency response station to the scene of the accident. False signals can be interrupted by a pushbutton on the dashboard.
Team Humanity
Team Humanity developed Green Lens, a device that comprises an image acquisition module, a microprocessor and a display unit which when pointed at a plant scans it, and displays its health status to the farmer, letting him know if it is diseased and what disease it is affected with.
Through the image acquisition module, the farmer can acquire the image of the plant which is to be diagnosed.  The image is then automatically processed using computer vision algorithm and Artificial Neural Network (ANN) running on the processor. The result of the test is displayed on the screen or an audio message is relayed to the farmer in his local language. The results may also be sent to organisations like International Institute of Tropical Agriculture (IITA) for awareness to prepare for a possible outbreak of an epidemic.
Team Hack-botics
Team Hack-botics developed a compact and cost effective robotic arm manipulator. A specific application of this is in bakeries for lifting bread and placing it in the oven.
Materials used include wood and Polylactic acids (PLA). About 40 percent of the parts are 3D printed. The rest were fabricated with wood. Due to time constraints, the maximum payload of the arm was 100 grammes. The design could be modified to lift heavier loads. The device could also be upgraded to use remote controls.
Team Techkers
Team Techkers developed a hybrid power plant consisting of solar panels and a wind turbine; it also has a battery for energy storage.
The two systems – solar and wind – are interlinked with a charge controller that controls or regulates power generation. The solar system is designed to perform during the day while wind system works during the night. Both systems are controlled by a timing circuit that helps effect switching through the aid of transistors and relays for DC and contactors for AC. These charge controllers are designed using various electronic devices and are interlinked with the help of a TM electronic module.
After two hours of pitching and grilling from the judges, the results finally arrived. Team Techkers came third, Team Crea8-Good came second, and Team Hack-botics came first. Apart from the prizes won, each of the three teams will get the chance to participate in the Merck Group's accelerator programme in Dubai, UAE.
According to Njideka Harry, President/CEO Youth for Technology Foundation, organisers of the challenge, the goal is to "enable everyday entrepreneurs to design simple, but relevant solutions to their own community problems." She added, "We know that emerging technologies like 3D printing, robotics, artificial intelligence and the Internet of Things (IoT) can transform our continent from one dependent on aid to one where products are made."