For bloggers
Do you want to manage all news about AI Industry?
you manage the blog, you earn the money. Contact us here mayado@sylodium.com
For companies
Make business in all bilateral trades. Specially from USA to Africa, related with Future businesses, specially in all Industry 4.0, 3D Printers, laser business, AI business, Virtual Intelligence, R&D etc.
For institutions
West increasing their win win business with Africa (not charity, not explotation)
Tap Sylodium (contact us for synergies) to rotate your country in Internet (step by step) promoting American-African and European-African relations
This new is from DIGITAL TRENDS
WHAT DO YOU GET WHEN YOU COMBINE AI AND A LASER POINTER?
f you've got a pet dog or cat at home, you almost certainly had the experience of having to leave it alone at some point when you go out to work.
That is what the folks behind a new Kickstarter campaign called Felik want to help with. They developed a smart device they describe as being a bit like a "Kinect for pets." It combines a camera, computer vision algorithms, motion tracking, and artificial intelligence to keep your beloved cat or dog entertained (and therefore mentally active) with a laser pointer in your absence.
"All existing laser pet toys move in unnatural random or pre-programmed patterns and do not react to pets' movements," inventor Yuri Brigance told Digital Trends. "Others, like PetCube, allow a human to control the laser via an app, but it requires real-time human interaction and there's a lag between using the app and seeing the laser move. Felik doesn't require any human interaction and produces laser movements that are almost identical to a human moving a laser by hand. It is designed to mimic natural prey like a bug or a mouse."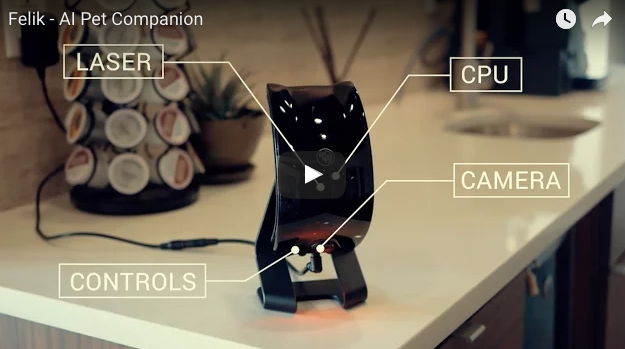 Brigance said he started developing Felik to look after his two cats, Mike and Molly, which he had adopted from a local pet shelter. After a change in his living situation, Brigance found himself without someone at home to look after the cats during the day when he was out working. "I couldn't leave them with just the food bowl and nothing to play with so I started working on Felik to bridge that gap," he said.
Felik doesn't just help take care of your pets while you're out, either. It also comprises a mobile app, which reminds human owners to play with their resident feline or canine when they are at home — if the constant meowing or barking isn't enough of a reminder! It will even log how many hours you spend with your pet.
The device is currently available for pre-order, with prices starting at $104. Shipping will take place this November.